April 14, 2018
Environment Canada has called the ongoing ice storm, which is currently wrecking havoc across southern Ontario, "potentially historic" in its latest weather warnings for much of the region.
The storm, which has resulted in thousands of power outages, hundreds of cancelled flights, localized flooding and awful travel conditions, has resulted in the cancellation of the popular Jurassic Park area in Toronto. The Park acted as an area for fans to celebrate and cheer on the Toronto Maple Leafs and the Toronto Raptors — both of whom are currently playing in the playoffs. (Go Leafs. Go Raptors.)
As of Saturday morning, the first strands of the storm had moved in, bringing with it, cold rain across Lakes Erie and Ontario, and light snow to cottage country. It seemed innocent enough to start, however, when the rain started to change to freezing rain throughout the morning, in what promises to be a memorable springtime storm for millions of Canadians.
The storm, which brings various concerns around higher flows and water levels, may bring flooding and hazardous conditions. In particular, we're watching Lake Ontario as another area of concern for large waves — potentially two metres in height — and a change of wind direction overnight will bring storm surge to areas closest to shorelines.
"The bottom line is that this will be a high impact winter storm this weekend in southern Ontario, which will likely an ice storm for some regions including parts of the Greater Toronto Area," warns The Weather Network's chief meteorologist, Chris Scott.
Weather Highlights
1. We're expecting — and now seeing — widespread freezing rain across southern Ontario. With more on the way, please stay updated on the latest weather warnings issued by Environment Canada, and yield to the warnings of various authorities that will place restrictions on un-necessary travel under such conditions.
2. In some of the worst-hit areas, such as Kitchener-Waterloo, expect at least 20 mm of ice accumulations. The accumulations, however, are expected to change — and are reliant on the way the atmosphere cools in the next few hours. If the temperature stays above freezing, expect more sleet rather than freezing rain, but if it stays below zero, expect major — and possibly more — ice accumulation.
3. Across the region, we're expecting — and anticipating — major power outages. As of 4:00 p.m. — time of publication — we've noted about 10,000 outages across southern Ontario. In addition, we're also expecting a lash of strong winds tomorrow, which will cause ice-laden trees and power lines to sway, increasing the chance for even more power outages.
4. Travel, across the region, will be inadvisable across the entire region. If you don't absolutely need to travel, please don't go out on the roads. We've seen many crashes across the Greater Toronto Area, and we're afraid we'll see more. Avoid unnecessary travel.
Timing
Saturday
By Saturday afternoon, freezing rain and ice pellets were being reported from London to Kingston. The southernmost parts of the Golden Horseshoe, however, were still reporting rain showers. The frozen precipitation will become more widespread and intense throughout the afternoon. Slight ice accretion has been reported in Woodstock as freezing rain builds up on signs and fences, with power outages popping up in Ancaster and St. Catherines as wind gusts picked up to 80 km/h.
Areas further north, however, will see a period of snow before diminishing later in the day. Areas east of Georgian Bay and north toward North Bay will continue as a mainly snow event throughout Saturday.
In the early afternoon, we expect that all of the Golden Horseshoe will be at or below freezing with widespread freezing rain for the most southern areas, such as Niagara and Hamilton, and heavy ice pellets continuing across central areas including most of the Greater Toronto Area. Warm air will continue to push up from the south, which will contest the cold air from the north that is over extreme southwestern Ontario, with a rain/ice line lying somewhere around London. Southwest to Windsor, we expect to see rain — potentially heavy at times — along with the risk of a few rumbles of thunder via a band of thunderstorms, which are likely to develop from this line of cold/hot air.
In the majority of areas across the region, a stop of freezing rain on Saturday night is expected. However, this will accompany another round overnight.
"Freezing drizzle will continue in many areas overnight, but precipitation totals will be light," Dr. Doug Gillham of The Weather Network said. "However, wind gusts will continue to be 60 to 80 km/h, putting a tremendous strain on trees and power lines in areas that saw freezing rain during Saturday," he added. (These strong wind gusts, however, are expected to continue throughout the evening into Sunday, which will increase the risk for further power outages.)
Sunday
The worst of the storm may still be to come on Sunday, as freezing rain surges back into the region. The second round, however, will spread from south to north across the region as a major push of moisture arrives — and becomes widespread — by Sunday morning.
In the morning, and into the evening, freezing rain will changeover from rain in the south to north, beginning in the Niagara region and Lake Ontario shore.
"However, there is still a lot of uncertainty about how quickly temperatures will rise above freezing and we are increasingly concerned that the temperature will be slower to rise above zero than we initially expected, especially across northern areas," Gillham said. "This would result in additional ice accumulation and heightened impacts. In addition, an east wind will be gusting 60 to 80 km/h throughout the day," he added.
Gillham said periods of rain and thunderstorms — with strong winds — will continue Sunday evening and Sunday overnight.
Live Coverage
Live Stream: The Weather Network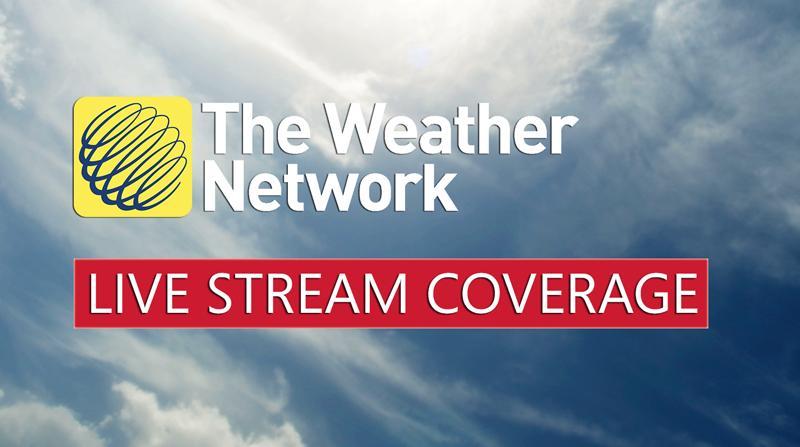 Live Blog: Ice Storm Slamming Southern Ontario
With files from The Weather Network.